The Saint Patrick New York City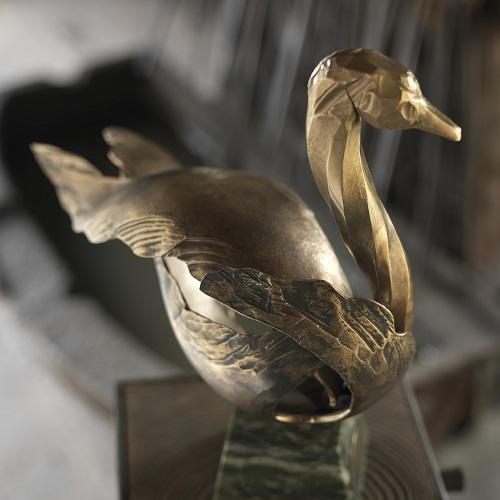 Sculptures for the New York City Saint Patrick's Day Parade
The Saint Patrick Award has been given since the advent of the Saint Patrick Gala Dinner by the New York City's Saint Patrick's Day Foundation to honor individuals for outstanding contribution. In 2016 the award took its permanent aesthetic form in the deft hands of sculptors Michael Calnan and Gunvor Anhoj: iron swans, hand-wrought in Ireland, finished with 22-carat gold leaf and set on Connemara marble. 'The Saint Patrick' for the Parade Grand Marshal is hand forged from solid golden bronze. In Irish mythology the swan signifies resurrection, change, spring, birth, renewal, light, love, and fidelity and is at the heart of many Irish myths - the 'Children of Lir' being the most famous.

Calnan & Anhoj - Ireland's award-winning sculptors of metals
Husband and wife team Michael Calnan and Gunvor Anhøj have forged a small business with a big reputation from iron, steel and bronze since 2001. The Calnan Anhoj Forge & Gallery is set in the historic surroundings of County Wicklow's Russborough House - and this is where the couple create 'The Saint Patrick'. As Irish-based artists, Michael and Gunvor are deeply appreciative of the opportunity to be part of such a prestigious event, especially one with such deep and enduring cultural ties to the country in which they live and work.

2016 Saint Patrick - for Peace in Ireland
Commemorating the hundredth year since the Easter Rising the 2016 Grand Marshal Senator George Mitchell was honored for his outstanding contribution to negotiating peace in Northern Ireland. Americans who championed significant change in American policy, thereby paving the way towards peace, were also recognized: Christopher Hyland, Niall O'Dowd, Bruce Morrison, Charles Feeney and William Flynn. John Fitzsimmons, may he rest in peace, received a St. Patrick Award in recognition of his outstanding service to the St. Patrick's Day Parade. You can read more about the 2016 Saint Patrick's in our blog
2017 Parade Grand Marshal
This years bronze Saint Patrick sculpture is destined for Limerick-man Michael J. Dowling of Northwell Health.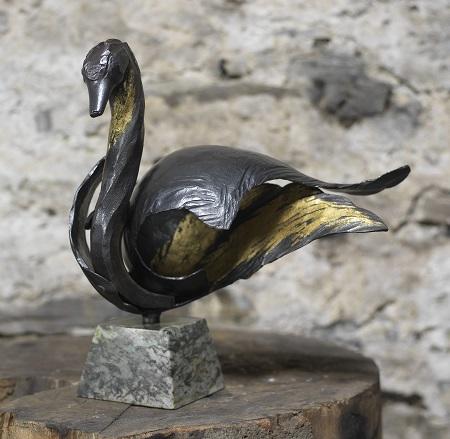 The Saint Patrick, forged steel with gold-leaf. Photo: Richard Johnston.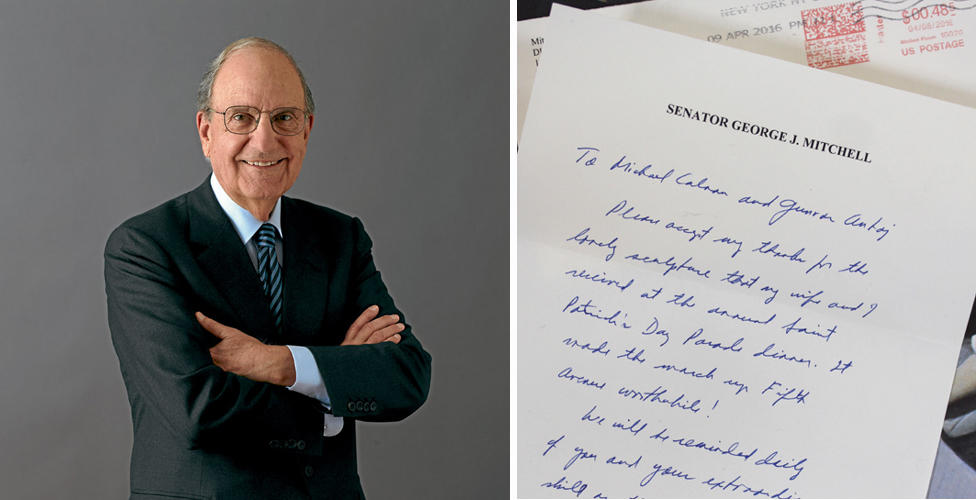 To Michael Calnan and Gunvor Anhoj...
Please accept my thanks for the lovely sculpture that my wife and I received at the annual Saint Patrick's Day Parade dinner. It made the march up Fifth Avenue worthwhile! We will be reminded daily of you and your extraordinary skill in the sculpture which has a prominent place in our home. George Mitchell, April 2016.
Legendary Peacemaker Senator George Mitchell was the Grand Marshal of the 2016 NYC St. Patrick's Day Parade where he received the '2016 Saint Patrick - for Peace in Ireland' to commemorate all accomplished in his career - especially his efforts in helping bring about the Good Friday Agreement 1998. The 2008 Time Magazine described him as one of the 100 most influential people in the world.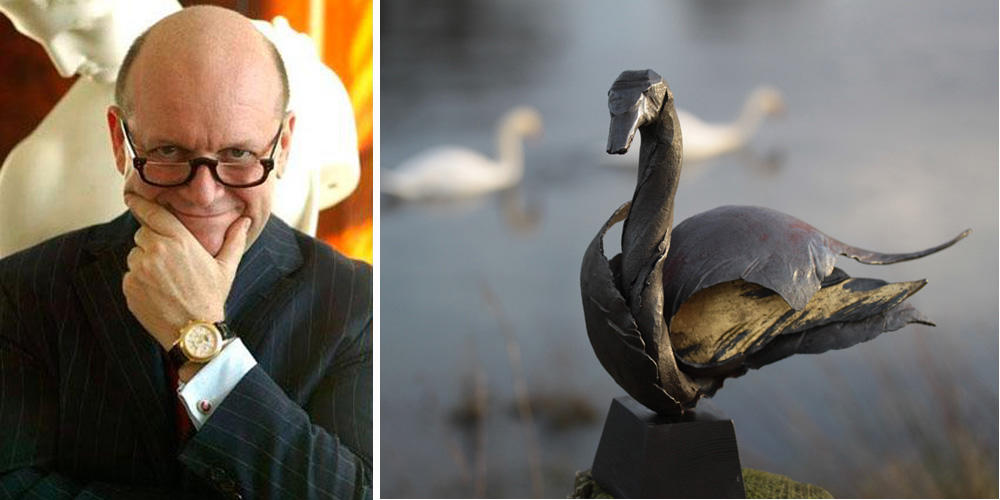 Soul Moving St. Patrick Swan
Dear Michael & Gunvor,

The boxes just arrived. We opened a box, ironically the one with the swans for George Mitchell and myself. The swan is so absolutely beautiful that it has amazed everyone in our office, all of us gathering around your masterful work in awe, a kind of instant group homage. Having visited a good number of the greatest museums in the world, this swan moves me emotionally so very much. You are truly National Irish artistic treasures. St. Patrick is a flawless example of human artistry at its very highest, an ideal.
Alex Lieberman made a very strong point to me that if you do not see balance in art - even in that that is irregular - it cannot move the soul. Your Swan - the St. Patrick Swan - moves us profoundly. I feel that at any moment it will take flight so infused with life is your hand wrought iron. Such nobility. The head alone is remarkable.

Thank you so very much. God bless and keep you, Christopher. March, 2016.
Christopher Samuel Hyland is a highly successful New York based textile merchant, designer, photographer, writer and politician. He is a patron of the visual arts and music and the founder of the prestigious Hyland Awards for Design. As a member of the NYC Saint Patrick Foundation Christopher was our contact throughout the design of the very first Saint Patrick Sculptures early 2016 and he is himself a recipient of the '2016 Saint Patrick - for Peace in Ireland'. Beginning in 1991 Hyland promoted the cause of peace in Ireland to unify support among Irish Americans for the Clinton candidacy and was the instigator of the very first meetings dedicated to the cause.
#TheSaintPatrickSwan