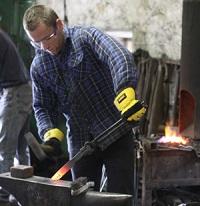 'I think we all learned an immense amount from you in such a short space of time. Plans are stewing in my
brain for a home made forge and hopefully coming back in the future to learn more!'
Eric, Blade Smithing 2017
---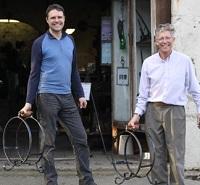 I wanted to thank you again for a really great weekend! I enjoyed myself immensely, learning a new skill and gaining huge respect for the ease with which you manipulate dangerously hot metals… Unfortunately it was too late to try out the brazier yesterday, but it'll definitely be used next weekend. You're very relaxed and clear as a teacher, I can't wait until the next course. Log holder, here I come!
Christoph, fire brazier & log holder 2016
---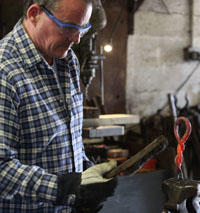 I would like to thank you for one of the very best experiences I have had. It was a fantastic day (and I got some fireside tools as well!) Your tuition and patience was very encouraging and your enthusiasm was infectious. There was a great group of like-minded people all friendly and willing to help each other which made us all a bit more relaxed and not so scared of making a mistake. I will never again take for granted the work that goes into handmade tools. My right arm felt like Usain Bolts leg after a race, from the amount of hammering I did! But it was worth it.
I would recommend your course to anyone who can lift a hammer.
John Harkin, Fire Side Tools 2015
---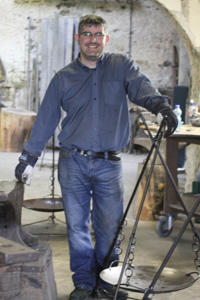 Great weekend! Loads of tips and techniques to pick up even if you have previous experience. Highly recommended to people of all skill levels.
Colin Whyte, Fire Brazier 2015. Colin is a metal work teacher at a secondary school.
---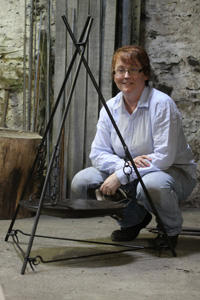 Fabulous weekend, such an achievement! Great teacher and great company, can't wait for some good weather to christen it! Would recommend anyone who's interested give it a go, you can totally do it.
Karen Mas-Mollinedo, Fire Brazier 2015
---
'Many thanks for a most enjoyable and informative day last Saturday. I was impressed by the well organised, relaxed, and friendly atmosphere of the course. I've always enjoyed craft inspired hobbies - wood turning, small metal engineering so the christmas present from my wife of the blacksmithing course was inspired. I'll certainly recommend the course to my friends!'
Brian, Fire Side Tools 2015
---
'I'm a geologist by trade, where it's all about digging up resources to feed our fast paced, technology driven, plastic overloaded world; I find myself drawn towards unprocessed materials, unique hand made objects showing craftsmanship instead of mass-produced and feeling the urge to learn traditional skills before they disappear.
I spent two days with Gunvor making replicas of Iron Age Viking knives, both female and male versions. It was extremely satisfying and empowering. It's not about power muscle… sure you need a bit of it to lift the hammer in the first place… but it's all about technique and remaining focused throughout the day. Gunvor - through her straightforward approach - makes it very accessible and I like that about her. You get what you ask for. If you don't ask, then stay in the dark. But at the end of a full on day, the knife is finished as she keeps track of your progress. The two knives I made are as functional as fantastic decorative pieces, but overall reflect the efforts I put into making them and I feel very proud of them. So if you've been thinking of trying blacksmithing for a while but haven't done it yet, sign up for a course with Gunvor, you won't regret it!'
Sophie Préteseille, 2015
---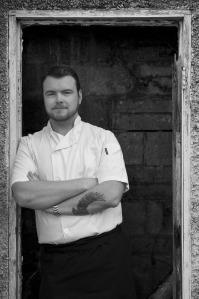 'Last Sunday, instead of doing normal Sunday things like having a lie in and going for brunch, reading the paper in the pub or watching some football, myself and my mate Rob became Blacksmiths... (Mark took loads of cool photos from the knife making process - you can go to his full blog here)... The knife-making day was tough, the hammers heavy and pounding them off semi solid steel for six hours will give you fore-arm cramps like you wouldn't believe, it is hard work but it was incredibly rewarding. The forge is an amazing space to work and every step of the way was clearly shown to us. I can't recommend this place enough. Definitely check it out.'
Nov, 2014. From the food blog 'Oak, Smoke and Barbeque Sauce' by Mark O'Brien who is a chef working in Dublin.
---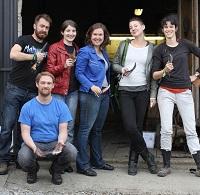 Thank you Gunvor for a great day at the forge. Everyone in the group seems to have named their knife out of pride. I think I speak for us all when I say we had a great day, and I look forward to coming back again in the near future!
Dublin Circus Project, Group Booking Sep 2014
---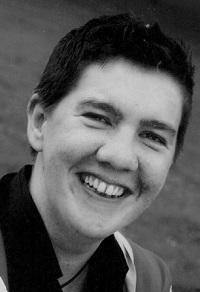 'I decided to take this past weekend off and go on a road trip with a couple of friends, Clodagh and Red, and to spend Saturday hitting things with a hammer. We were booked in to do a day long knife-making workshop with Gunvor Anhøj at her forge in the courtyard of Russborough House. None of us had any experience but I can hit things, Red can light fires and Clodagh is an artist so between us we hoped to produce something vaguely pointy looking. I was also wearing a fine pair of red braces which I knew would make all the difference to my cutler capabilities. It was very pleasing to arrive and find that the workshop was of a manageable number with just six of us, two to each of the three fires. The only man was Richard the engineering student, who got so hot at the middle fire that even his elbows sweated, something I had never seen before. Gunvor, who has been a blacksmith for 18 years, was a calm, informative and affable teacher who I found did just the right combination of talking and throwing us into the deep end. And oh what a deep end. I found myself in the joyous position of having a red hot fire, a hammer, tongs, and an anvil of my own. Oh yes, an anvil of my own! We went at it hammer and tongs…sorry…and it was hot, sweaty, dirty and glorious. We forged and hammered our nascent knives, Gunvor used an angle grinder to put in the bevelled edges, then we polished, hardened and finally sharpened our eclectic collection of home-made stabby things. I highly recommend it. Apparently, according to the poster in the forge about female blacksmiths, it also improves your health. It would definitely help with weight loss given the strenuous exercise and heat, certainly Richard's elbows looked thinner by the end...'
Sep 2014. From 'westcorkcollegewords' the Blog for West Cork College written by Dr. Emma Bidwell.
---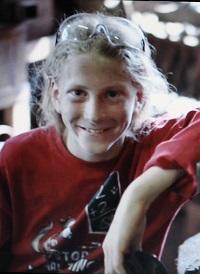 'My name is Sammy and this wasn't the first time I've done blacksmithing, the first time was actually for my birthday and I liked it a lot. It just gets your mind going and you have to focus... You don't go and distract yourself on thinking about other things in your life like school. I actually burnt myself twice because I got so carried away! It's amazing the way you can move metal and you can shape it... it's incredibly strong and the ability to move that just gives you so much pleasure. You have to pay attention to so much more than what it seems though – its not just banging metal – it's a precise art. It also helps your arm muscles! '
Sam, age 13 from rte juniors 'Kids Speak' filmed at the Forge in June 2013.
---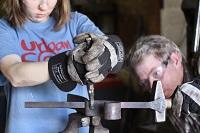 Laura age 18, who has been attending regularly since she was 15, about her recent creation of a log holder.
'I think you get to show off a log-holder a bit more than say a crochet cushion!'
---
Dear Gunvor. I really enjoyed your axe-making course and will treasure my axe for the rest of my days. Already I am looking for excuses to use it and I feel sure we will have plentiful supplies of kindling henceforth. Your forge is a great place to work and the easy, happy atmosphere was really nice.
Keith, axe maker 2013
---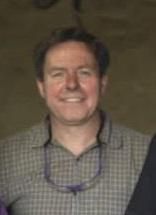 Many thanks Gunvor, I thoroughly enjoyed the day and am looking forward to the next. You can be well proud of the courses you are running, both from tuition and content point of view. It is always nice to see something done properly!
Lindsay Beach, knife maker 2013
---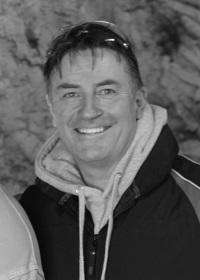 Then CEO of Volkswagen Group Ireland - Simon Elliott who made a fire brazier and also came on a team building day with his team in 2013.
'We needed something really different and rewarding for our small team of four and The Forge was absolutely perfect, we worked together, not even thinking of our mobile phones and got much closer as a team as a result. The reward at the end was perfect in every way, and we still revert back to it today many weeks later.'
---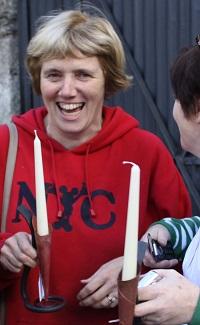 Margret Keogh, Owner at Sakura Montesorri Play Group who came on a staff outing in 2012.
'Hi Gunvor I want to thank you for A WONDERFUL DAY all the staff really enjoyed it and it was an excellent team building day. There were many comments about how great a teacher you are and I will definately recommend it to other people, thank you for everything.'
---
I wanted to say a really big thank you for the blacksmith course. It was a very good day, you are a great teacher and we both learned a huge amount from you. Well done for bringing such a fabulous craft to the public. I am a big fan of reviving old crafts and skills, so this is really great.
Laura & Sean Teegan, parent / child course, 2012
---
Thanks a mill for the great blacksmithing experience Gunvor, you made it look so easy! It was great fun and there was a lovely atmosphere there in the forge among everyone. At times the day had a surreal quality to it - I'm pretty sure I've never been that close to fire in my life, even when toasting marshmallows! You had a great way of sharing your time among us all and giving us the necessary attention and I actually believed that I was going to go home with a finished product, and I did - a lovely Celtic brooch even though I had zero previous experience! A really different and enjoyable way to spend the day, and people are very impressed when I tell them I did a blacksmithing course. So thanks again Gunvor.
Frances 2012
---
I just wanted to say thank you for a great day at the forge. I really enjoyed it and I'm very happy with my knife. It was a challenge but was really interesting and very rewarding. Everyone who's seen my knife (and my poker) really like them and are fascinated by the process of making them. Thank you for all the information, for being so patient and for making it fun!
Ryan Gawley, 2011
---
Hello Gunvor.. just to thank you for a magic day..........we learned so much..... every time I close my eyes I see white metal.... waiting to be whacked with a hammer............thank you so much!
Helen and Brighid, parent / child course 2011
---
I would just like to say how much I enjoyed the Fire side Tools day you ran for us a few weeks ago. It was very enjoyable and immensely satisfying, even if it did take me nearly 2 hours to fire-weld the two halves of my poker back together! PS: the blisters on my hands are just about healed....!
Richard Selway, 2010
---
I found the time I spent at the forge to be both relaxing and exhilarating, and the satisfaction I gained from making a physical object surpassed any I could hope for from my day job (I work in the IT industry) I would recommend to any office worker a day working with blacksmiths whose job it is to encourage you to hit things!
David De Roach, 2009