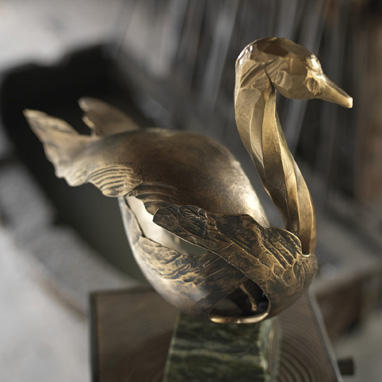 Sculptures for the New York City Saint Patrick's Day Parade
The Saint Patrick Award has been given since the advent of the Saint Patrick Gala Dinner by the New York City's Saint Patrick's Day Foundation to honor individuals for outstanding contribution. In 2016 the award took its permanent aesthetic form in the deft hands of sculptors Michael Calnan and Gunvor Anhoj: iron swans, hand-wrought in Ireland, finished with 22-carat gold leaf and set on Connemara marble. 'The Saint Patrick' for the Parade Grand Marshal is hand forged from solid golden bronze. In Irish mythology the swan signifies resurrection, change, spring, birth, renewal, light, love, and fidelity and is at the heart of many Irish myths - the 'Children of Lir' being the most famous.
Calnan & Anhoj - Ireland's award-winning sculptors of metals
Husband and wife team Michael Calnan and Gunvor Anhøj have forged a small business with a big reputation from iron, steel and bronze since 2001. The Calnan Anhoj Forge & Gallery is set in the historic surroundings of County Wicklow's Russborough House - and this is where the couple create 'The Saint Patrick'. As Irish-based artists, Michael and Gunvor are deeply appreciative of the opportunity to be part of such a prestigious event, especially one with such deep and enduring cultural ties to the country in which they live and work.

2016 Saint Patrick - for Peace in Ireland
Commemorating the hundredth year since the Easter Rising the 2016 Grand Marshal Senator George Mitchell was honored for his outstanding contribution to negotiating peace in Northern Ireland. Americans who championed significant change in American policy, thereby paving the way towards peace, were also recognized: Christopher Hyland, Niall O'Dowd, Bruce Morrison, Charles Feeney and William Flynn. John Fitzsimmons, may he rest in peace, received a St. Patrick Award in recognition of his outstanding service to the St. Patrick's Day Parade.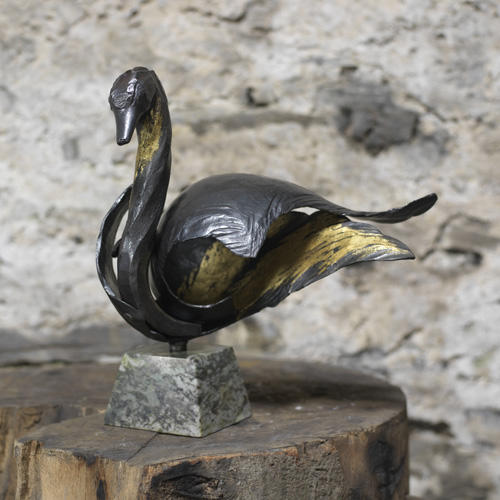 The Saint Patrick, forged steel with gold-leaf. Photo: Richard Johnston.
#TheSaintPatrickSwan