About Us
Husband and wife team Michael Calnan and Gunvor Anhøj have forged a small business with a big reputation from iron, steel, bronze and copper. The Sunday Business Post Magazine 2014.
We are contemporary blacksmiths, our Studio is based in the grounds of Russborough House, Co. Wicklow, Ireland. Having both studied blacksmithing at art college in a UK facility maintaining the teaching of artist blacksmiths, we are now well established makers 20 years on.
Forging metals versus casting them, facilitates a short moment in the making process where the material - through heat - is at its most malleable and whatever tool impacts the surface at this time makes a permanent impression. This creates a sort of 'impact texture' which captures the unrefined earthiness of the raw material. Traditionally the craft has focused on the refinement of a crude raw-material, relying on tools with smooth and even surfaces. These days the smith receives the steel billets in millimeter-perfect uniform lengths, consequently inviting to be reinvented. Purposely leaving hammer marks and show-casing the plasticity of steel is the goal of the contemporary smith.
Our inspiration and vision as artists - or artisans - is to touch and inspire through the elemental and timeless, the rustic and untamed. Each piece is crafted by either Michael or Gunvor with uniqueness, individuality and excellence in mind.
Having visited a good number of the greatest museums in the world, this piece moves me emotionally so very much. Alex Lieberman made a very strong point to me that if you do not see balance in art - even in that that is irregular - it cannot move the soul. Your Swan - the St. Patrick Swan - moves me profoundly. I feel that at any moment it will take flight so infused with life is your hand wrought iron. You are truly National Irish artistic treasures.
Christopher Hyland, March 2016.
(Christopher is a highly successful New York based textile merchant, designer, photographer and writer. He is a patron of the visual arts and music and the founder of the prestigious Hyland Awards for Design)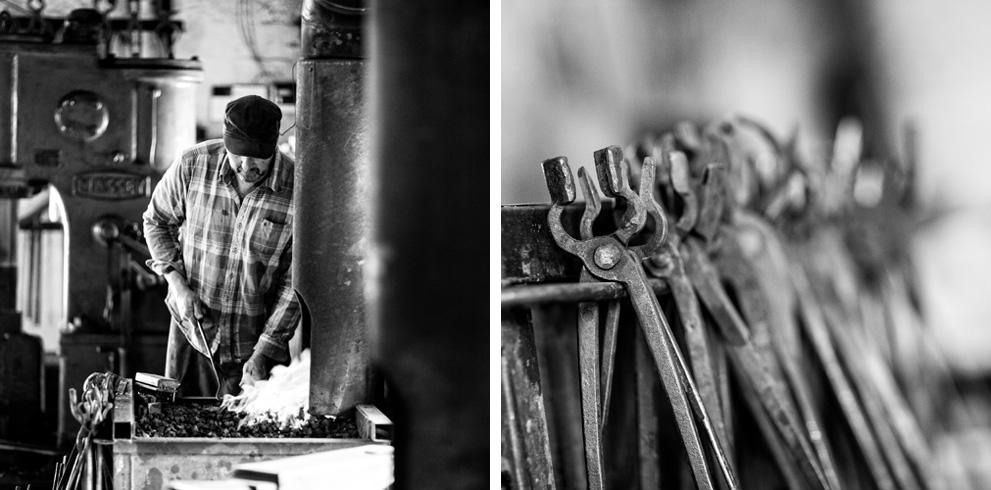 Michael Calnan
Michael was born in 1968 to Irish parents. He ventured into the world of the blacksmith coming from a background in the glass world. The work he creates emanates a degree of simplicity and elegance irrespective of mass and size of material.

'I like that a work can communicate something fundamental to us, that we can realise a connection with it in some unexplainable way. Be it spiritually or mathematically orientated a presence is generated and a moment met. I strive to create work that is visually uncomplicated and aesthetically correct. Through the use of a minimal quantity of elements, such as subtle curves and straight line, visual balance and elegance are possible.
The negative shapes, or the voids of space, which are created when two or more elements relate to each other, can often produce surprising results. When viewed from various different perspectives, an evolution of shape occurs'
Michaels Accreditations
2014 & 2015 Judge at the National Craft Awards
2012 Crafts Council of Ireland Purchase award
2012 'Certificate of merit in the recognition of excellence'. Royal Dublin Society. 2nd price at the National Craft Awards, traditional metalwork category.
2001 Higher National Diploma in Three Dimensional Design Crafts / Blacksmithing at the Hereford College of Art & Design.
1999 Journeymans Certificate. The Worshipful Company of Blacksmiths.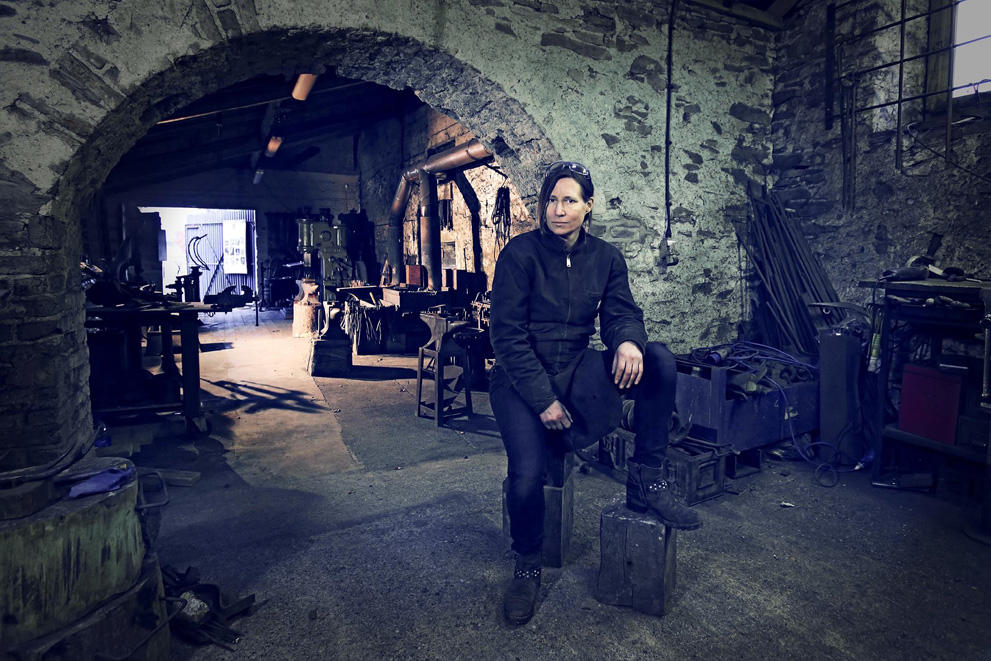 Gunvor Anhøj
Gunvor Anhøj was born in Denmark in 1973. She currently lives and works at Russborough House, County Wicklow, Ireland. From early childhood she loved making and used to sit and carve wooden objects in the garden of the family home. For a living she trained as a horticulturalist and was first introduced to Iron when required to plough the fields the old way using horses and a one-furrow plough. Following her intrigue with both the material and the tradition of the blacksmith she then trained in Hereford, England achieving a Higher National Diploma in Three Dimensional Design Crafts, Blacksmithing at the Hereford College of Art and Design.

'I aim for designs that have visual impact through an equal blend of shape and surface. Rustic textures in elegant form is my 'signature style'. I like to compose a piece using as few components as possible and also try to assemble them in a way that suggests a playful creation. A lot of intent goes into capturing a style which appears accidental or playful! There is always a fine line between expressing the initial idea versus dulling it down by over-thinking or over-working it.
Steel portrays strength very well, I more than often am compelled to using crude, dangerously spear-like components in constructing a piece. It feels very primal - a contrast to the polished and soft modern being - a little reminder of the hunting days where fear was practical and tangible, dangerous situations resulted in literal scars. Fear to a modern person is on the inside but no less real'

'My favourite quote is by Beverly Pepper, a pioneer for women in the arts back in the 60ties and regarded among America's greatest living sculptors. Iron, in particular, has been a favourite medium in her five-decade career':
"People don't think iron can be poetic, but even a human tear has iron in it"
Gunvors Accreditations
2015 The Mill Cove Award, awarded for 'a sculpture of distinction' by The Mill Cove Gallery at the Sculpture in Context Exhibition - the largest and most prestigious outdoor sculpture exhibition in Ireland .
2011 Certificate of merit in the recognition of excellence'. Royal Dublin Society.
1st price at the National Craft Awards, traditional metalwork category.
2001 Higher National Diploma in Three Dimensional Design Crafts / Blacksmithing at the Hereford College of Art & Design.
1999 The Stanley Allcard Cup. The Worshipful Company of Blacksmiths
for 'outstanding ability in the traditional craft of the blacksmith'
1999 Journeymans Certificate. The Worshipful Company of Blacksmiths.
Calnan & Anhoj in Public Collections
Department of Foreign Affairs. Office of Public Works, Ireland. Dickens Heath Development (public art & seating commission, UK) Irish Museum of Modern Art (commissioned by 'Culturstruction') Crafts Council of Ireland.
Calnan & Anhoj in Private Collections
June Blake's award winning garden in Co. Wicklow (show cases five large pieces), furniture maker John Makepeace, patron Peter Smedvig has commissioned 20 pieces over the last 15 years.
Calnan & Anhoj Past Exhibitions
2007-2017 (Ireland) CRUX: a dialogue in metal. @ glór Gallery, Ennis, Co. Clare (3 March - 1 April 2017) Burtown House Gardens & Gallery, Co. Kildare (3 - 29 April 2017) The Custom House Gallery, Westport, Co. Mayo (13 July - 6 August 2017) 'Vanishing Art - a celebration of Irish Sculpture' (The Kildare Gallery, Carton House, 2016) Gormley's Fine Art - Russborough Sculpture Exhibition (Russborough, Co. Wicklow 2014) 'Forged - 20 years of Blacksmithing' (Hereford College of Arts, England 2013). Contemporary Sculpture in Irish Gardens (Ballintubbert Gardens 2011) Sculpture in Context (National Botanic Gardens 2011- 15) IABA at The Craft Granary (2011). The Andrews Gallery (Titanic Belfast 2012), RDS Crafts Competition & winning entries travelling show (2011 & 12).
2001-2006 (UK) The Anderson Gallery (Burford 2002-2005) Chelsea Flower Show (London 2003-2005) Fresh Air (Quennington 2005) Fire & Iron Gallery (Leatherhead, 2001-2006) The Garden Show at Stansted Park (Rowlands Castle, Hampshire. 2004) Partners in Time, Parkfields Gallery (Ross-on-Wye. 2003) The Chapter House Exhibition (Gloucester Cathedral 2003) Living by Degrees (Parkfields Gallery, Ross-on Wye. 2002) Top Drawer Springshow (Olympia, London 2002) Recent Graduates (New Ashgate Gallery, Farnham & Robert Phillips Gallery, Surrey & Cranleigh Arts Centre, Surrey. 2002) Studio Art @ Jardinique (Beech, Alton. 2002) Eyepoppers (Gloucester City Museum, Gloucester 2002) Exhibition Lebens Art (Hotel Gastwerk, Hamburg. 2002) Gannet Exhibition (Gloucester City Museum, Gloucester. 2002) Summer Show (HCAD, Hereford. 2001) New Designers Show (Islington, 2001) The Royal Worcester Porcelain Factory (2001).